VEVOR Chafing Dishes Buffet Stove Food Warmer 9L / 8 Quart Stainless Steel Foldable for Self-Service Restaurant Catering Parties
VEVOR Chafing Dishes Buffet Stove Food Warmer 9L / 8 Quart Stainless Steel Foldable for Self-Service Restaurant Catering Parties
Model

VEVOR Chafing Dishes Buffet Stove Food Warmer 9L / 8 Quart Stain

Availability:

In Stock
Product Description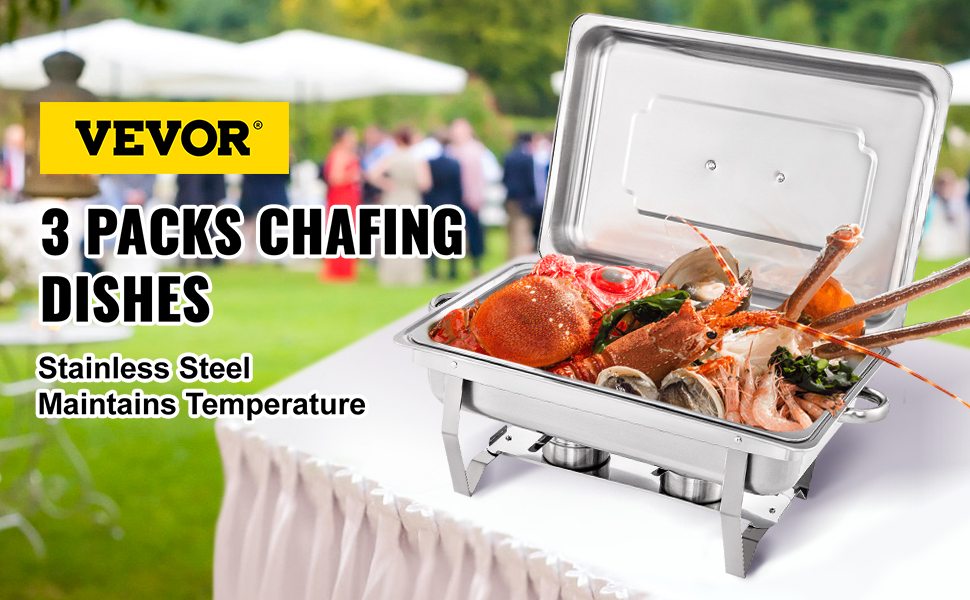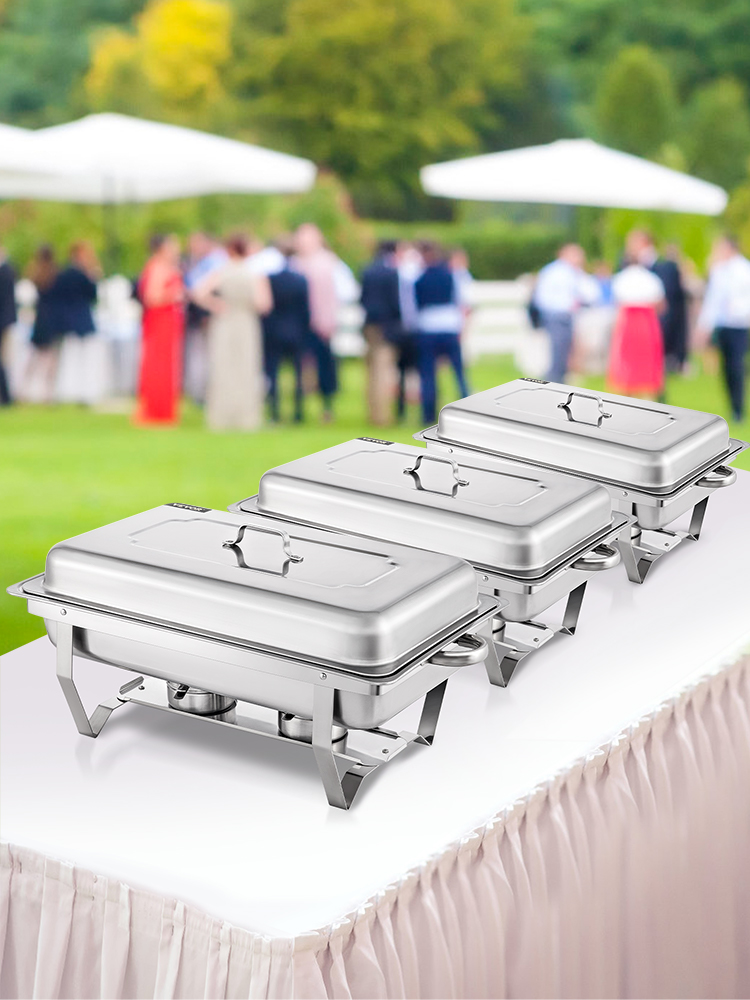 Stainless Steel Chafing Dishes Set
Food-grade Material & Heat Preservation & Space-saving

This rectangular chafing dish set features a durable stainless steel frame to ensure long-lasting durability. Its 8 qt capacity provides plenty of space for large quantities of food. It comes with food pans, a water pan, and fuel holders, so you have all you need to use your chafer right away. The chafing dish can be stacked, packed, and easily transported with a unique foldable design. It is ideal for buffets, catering, parties, self-service environments, etc.
Premium Chafing Dishes
Maintains Temperature
Convenient to Store
Humanized Design
For Various Occasion
Tough Equipment & Tools, Pay Less
VEVOR is a leading brand that specializes in equipment and tools. Along with thousands of motivated
employees, VEVOR is dedicated to providing our customers with tough equipment & tools at incredibly
low prices. Today, VEVOR's products are sold in more than 200 countries and regions with 10 million
plus members worldwide.
Why Choose VEVOR?
Premium Tough Quality
Incredibly Low Prices
Fast & Secure Delivery
30-Day Free Returns
24/7 Attentive Service
Key Features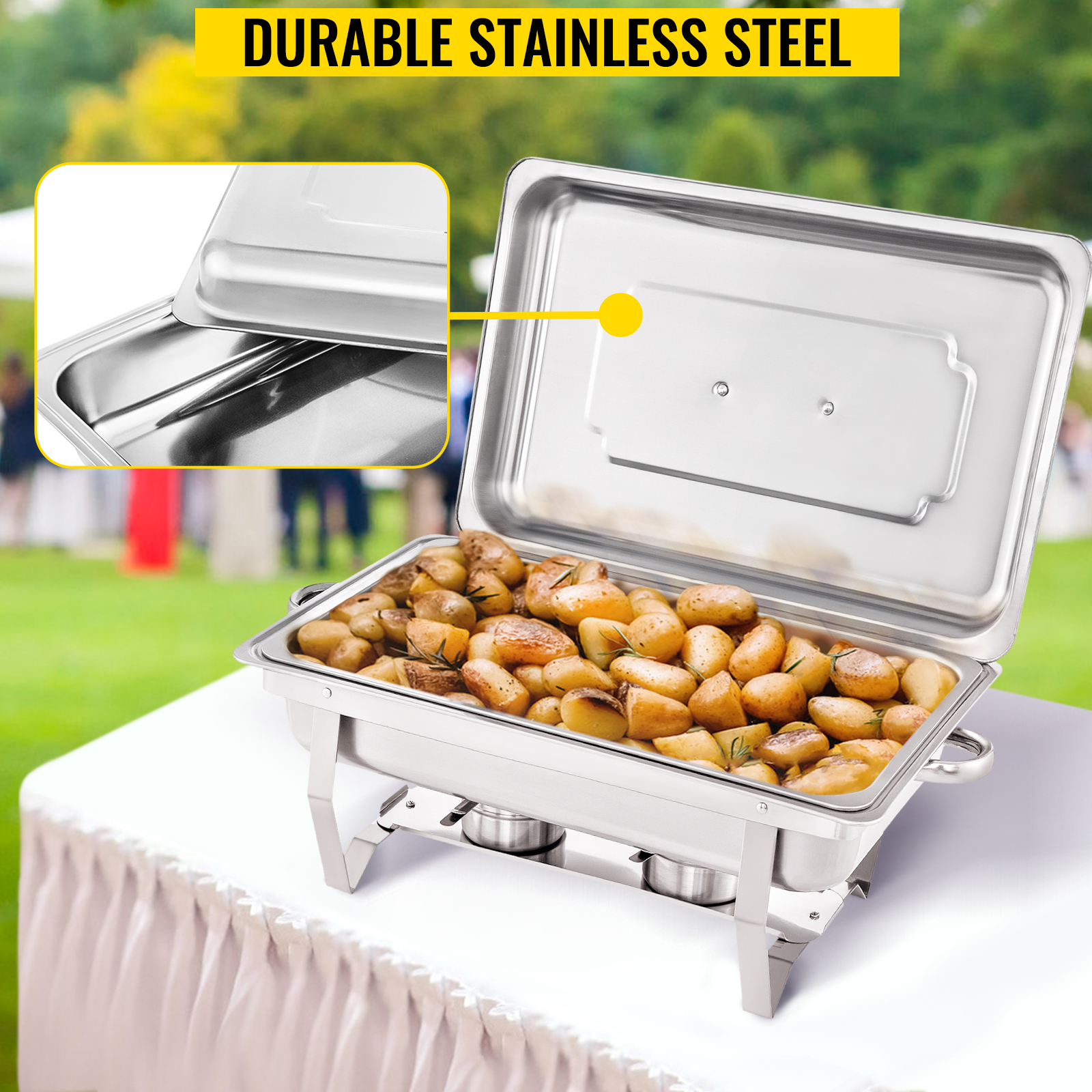 Food Grade Material
Food grade stainless steel has good heat resistance, is not easy to rust, corrosion, or discoloration, and is durable. So you can use it to store food without worry.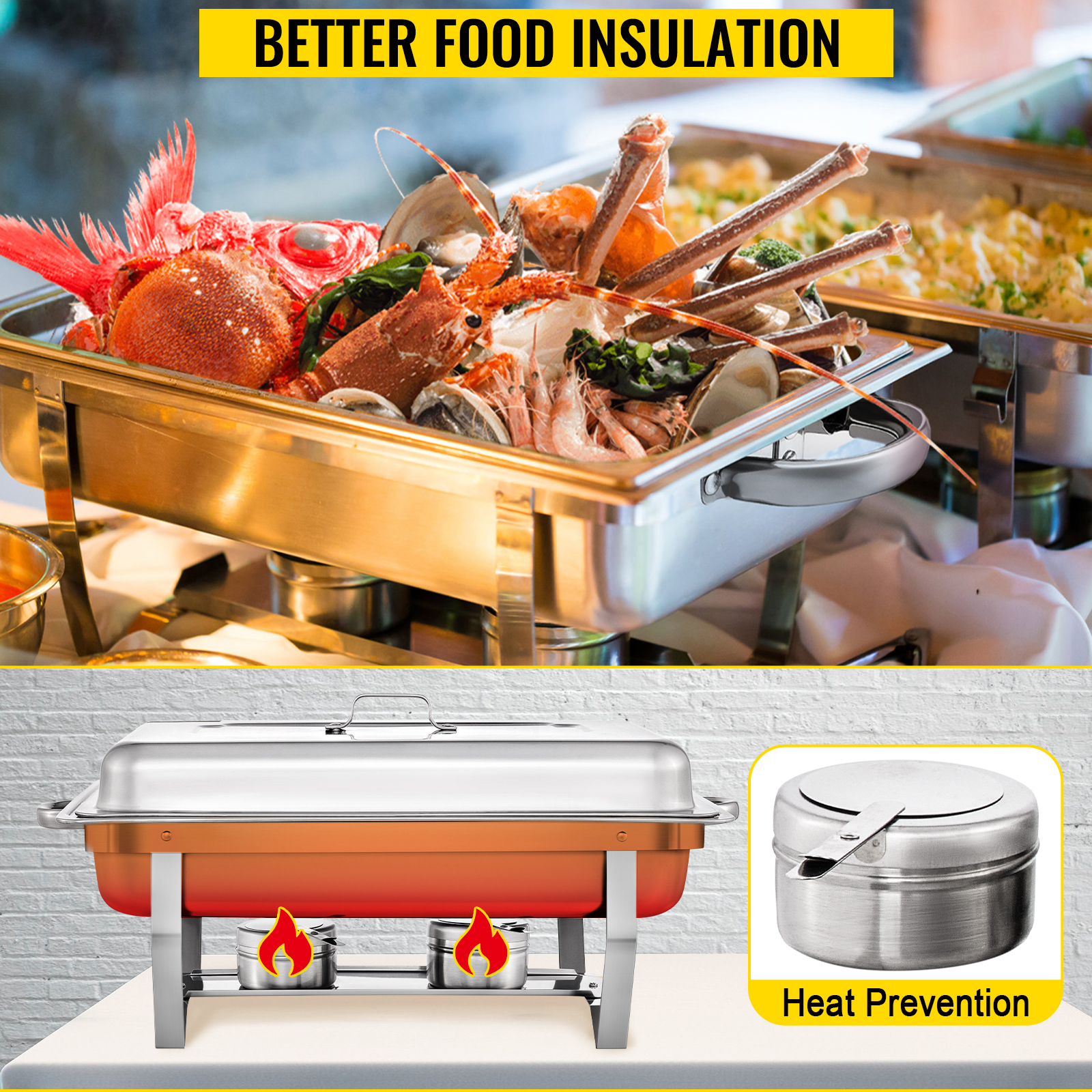 Keep Food Warm
Two fuel holders with pans can heat under the water pan to maintain the temperature of the food pan so that you can taste delicious warm food during dinner.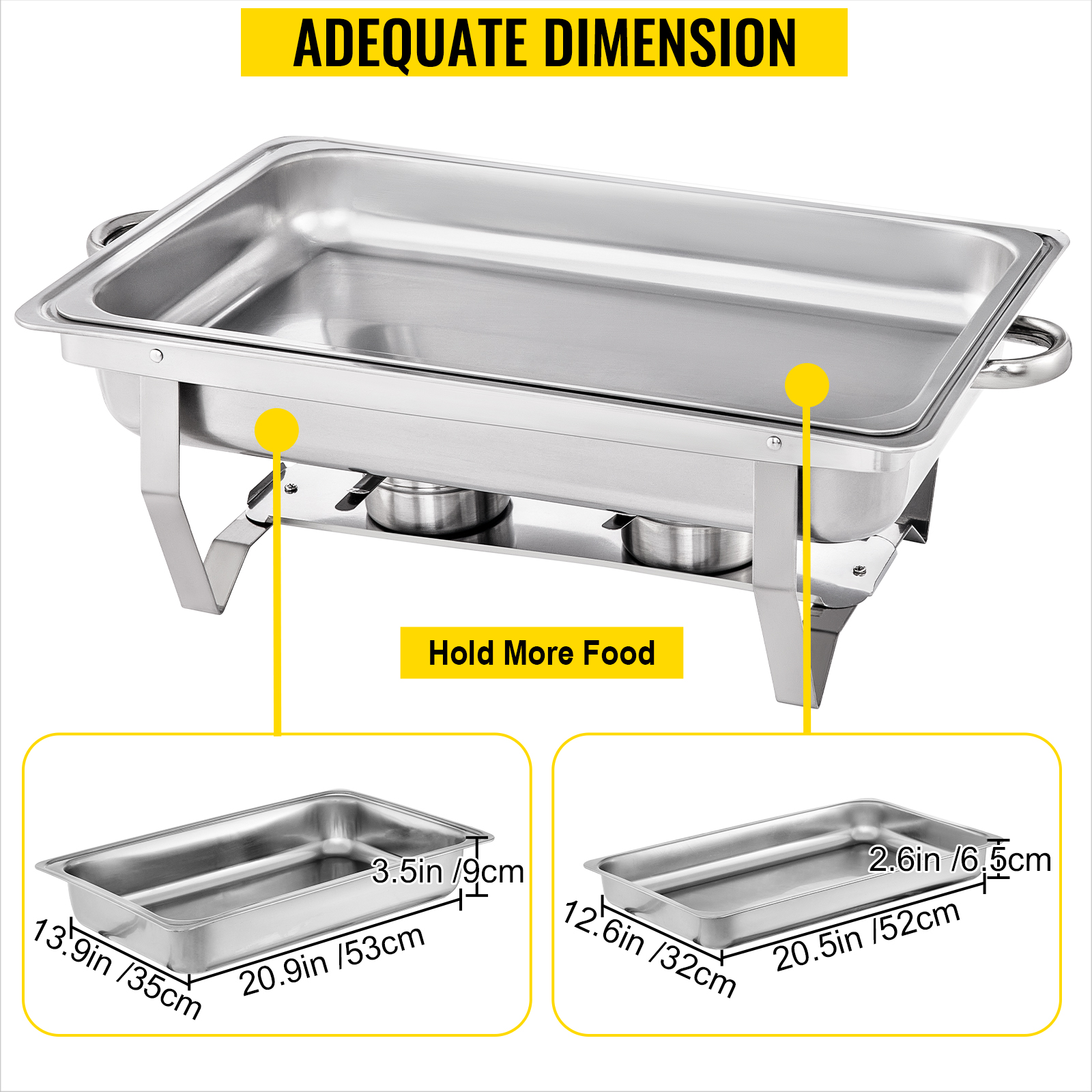 9L Large Capacity
Our dinner plate has a set of three suits with a large capacity of 9 quarts, which provides you with more space to accommodate food at parties and self-help.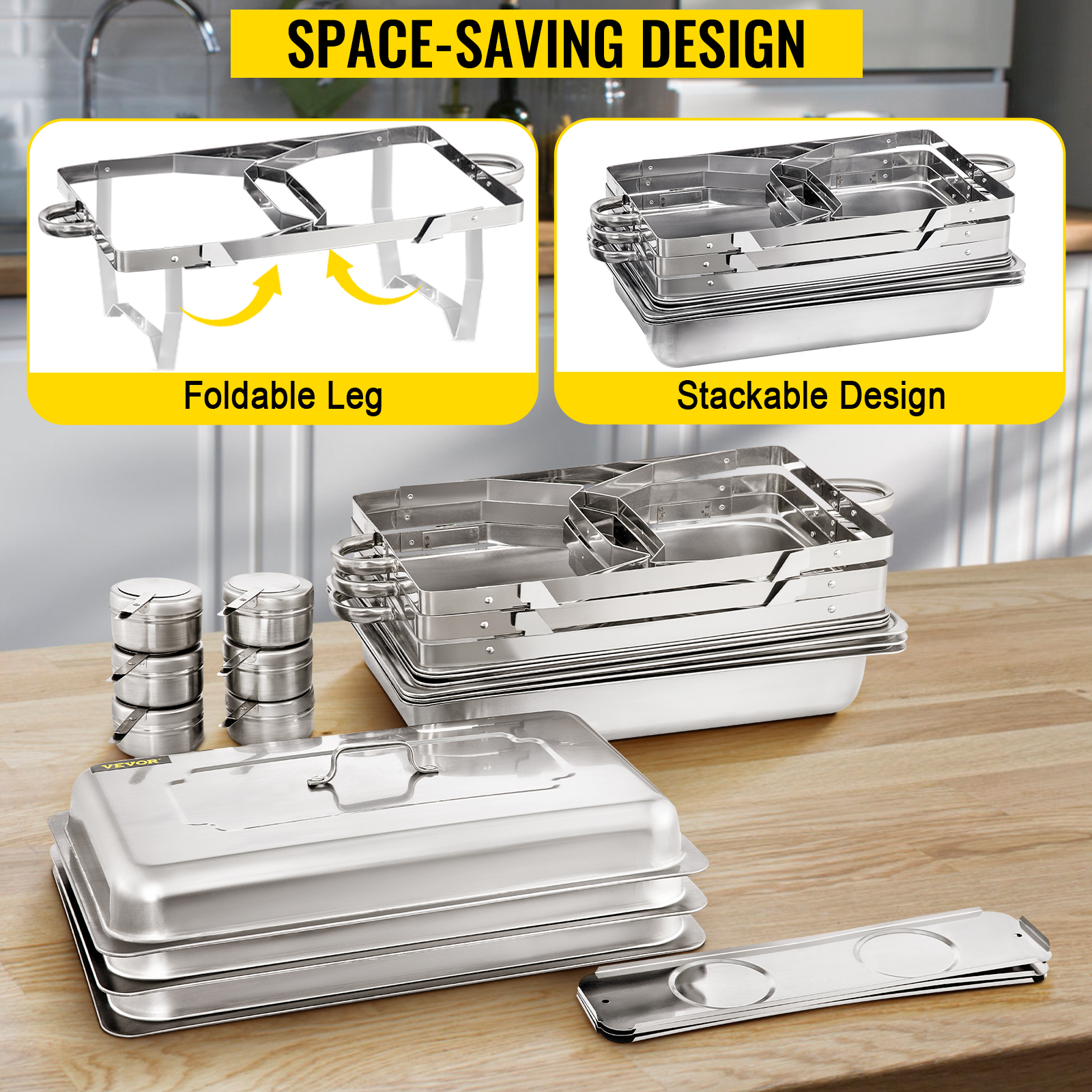 Save Your Space
The legs can be folded, and the dinner plate, water plate, and cover can be stacked. Then, after you use it, you can easily sort the dinner plate kit together and store it in the cabinet.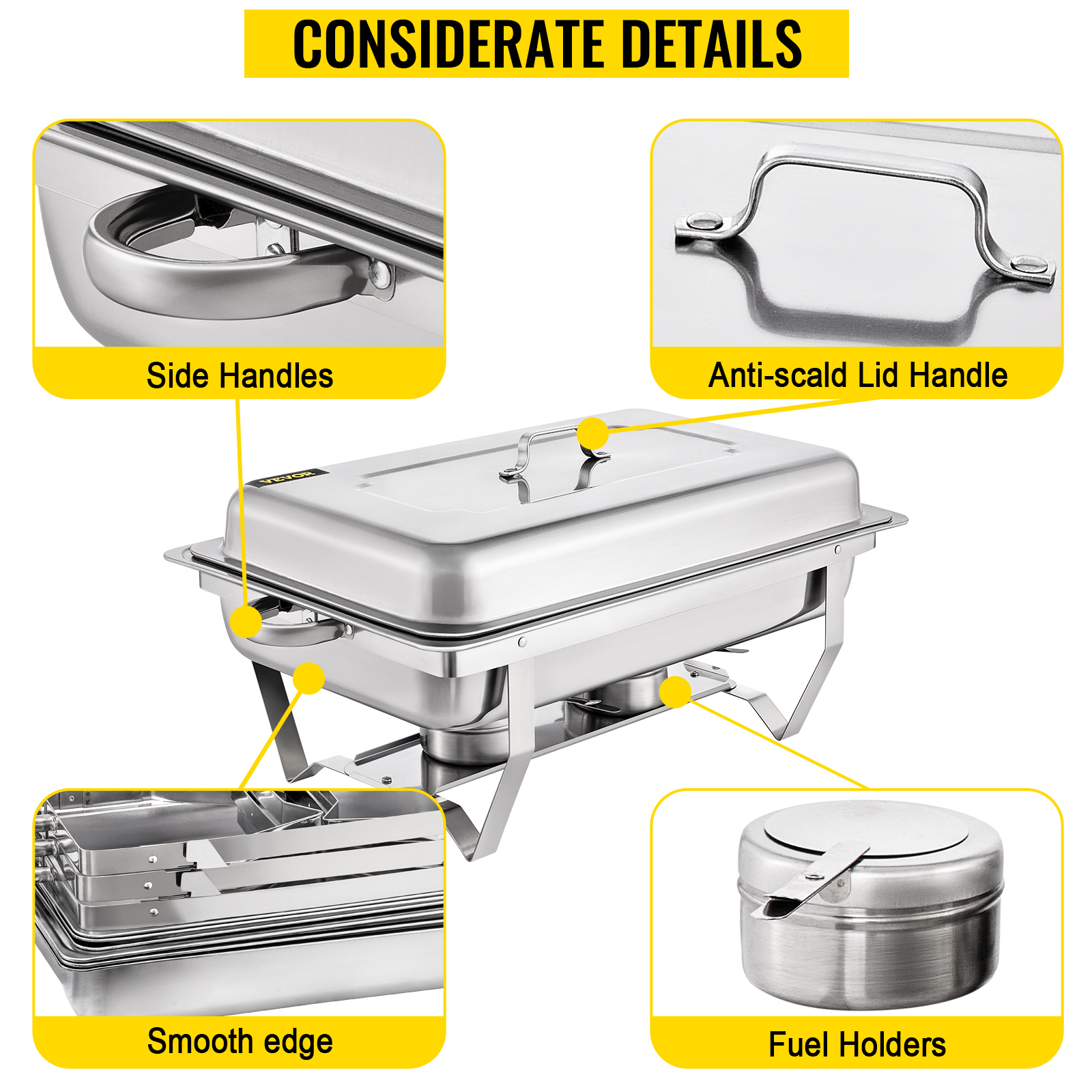 Considerate Details
The lid and plate handles can help you move quickly and improve convenience. In addition, the fuel holders heat the water pan for thermal insulation.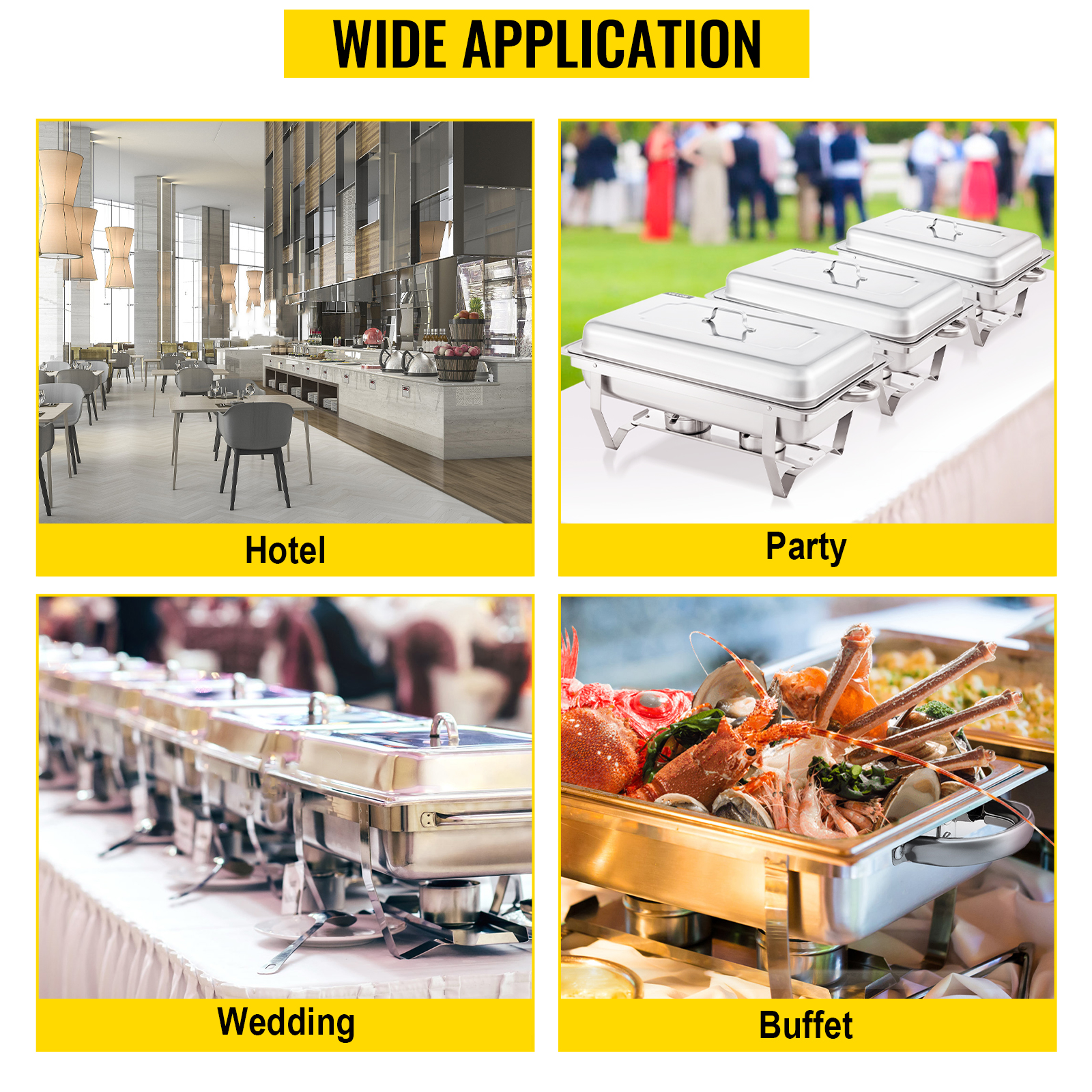 For Various Food
It is very suitable for a buffet, which can contain meat, vegetables, seafood, and other foods so that you can enjoy more delicious and warm food at the party.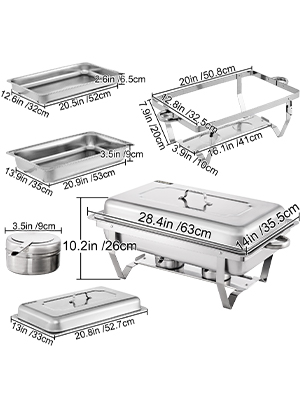 Specifications
Quantity: 3PCS 4PCS 6PCS 8PCS
Volume: About 8 Quart / 9 L
Overall Size(L x W x H): 24.8 x 14 x 10.2 in / 63 x 35.5 x 26 cm
Water Pan Size(L x W x H): 20.9 x 13.9 x 3.5 in / 53 x 35 x 9 cm
Food Pan Size (L x W x H): 20.5 x 12.6 x 2.6 / 52 x 32 x 6.5 cm
Lid Size(L x W): 20.8 x 13 in / 52.7 x 33 cm
Fuel Holder Tray Size(L x H): 16.1 x 3.9 in / 41 x 10 cm
2 Alcohol Furnace Diameter: 3.5 in / 9 cm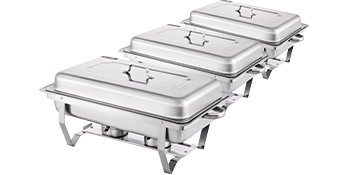 Package Content
3 / 4 / 6 / 8 x Stainless Steel Frames
3 / 4 / 6 / 8 x Water Pans
3 / 4 / 6 / 8 x Food Pans
3 / 4 / 6 / 8 x Fuel Holder Trays
6 / 8 / 12 / 16 x Fuel Holders
3 / 4 / 6 / 8 x Lids
Features & Details
【Premium Chafing Dishes】: Food-grade stainless steel makes our chafing dishes durable, corrosion-proof, and easy to clean. It is suitable for hotel breakfast areas, parties, weddings, and self-service environments. Three/Four/Eight packs of 20.5 x 12.6 inches are large enough to accommodate more food.
【Maintains Temperature】: Our chafing dish includes a water pan, food pan, cover, solid frame, and fuel holders. You can put water in the water plate and heat it with the alcohol stoves to keep the dishes in the food plate warm. It can be used with a lid to let you eat hot food at any time.
【Convenient to Store】: The size of the water pan, food pan, and cover can make them stacked together to save space to the greatest extent. The foldable leg solution facilitates packaging, transportation, and storage, saves a lot of space, and provides you with the best user experience.
【Humanized Design】: Our chafing dish is equipped with a series of intimate details to make it more convenient for you to use. The handle on the cover keeps from scalding, the handles on both sides of the water pan are easy to move, the fuel holder is for heating, and the legs can be folded.
【For Various Occasion】: 9L large capacity hot pot, let more friends enjoy delicious food and happiness together. It is suitable for any occasion to keep dishes warm. It can be used for weddings, banquets, picnics, birthdays, parties, etc., to serve guests and keep food fresh and delicious.
Aliexpress
Brand Name
VEVOR
Type
Chafing Dishes Set
Certification
CE
Features
Space-Saving
Origin
CN(Origin)
Power (W)
0
Material
Stainless steel
Voltage (V)
0
Alcohol Furnace Diameter
3.5 in / 9 cm
Product
Buffet Stove Food Warmer
Quantity
3PCS 4PCS 8PCS
volume
9L / 8QT
Overall Size
24.8 x 14 x 10.2 in / 63 x 35.5 x 26 cm
Food Pan Size
20.5 x 12.6 x 2.6 / 52 x 32 x 6.5 cm
Water Pan Size
20.9 x 13.9 x 3.5 in / 53 x 35 x 9 cm
Lid Size
20.8 x 13 in / 52.7 x 33 cm
Marketplace Follow Seller
From China
Total Followers 41813
Total Products 6171